Take Dinner Up A Notch With A Full Blown German Menu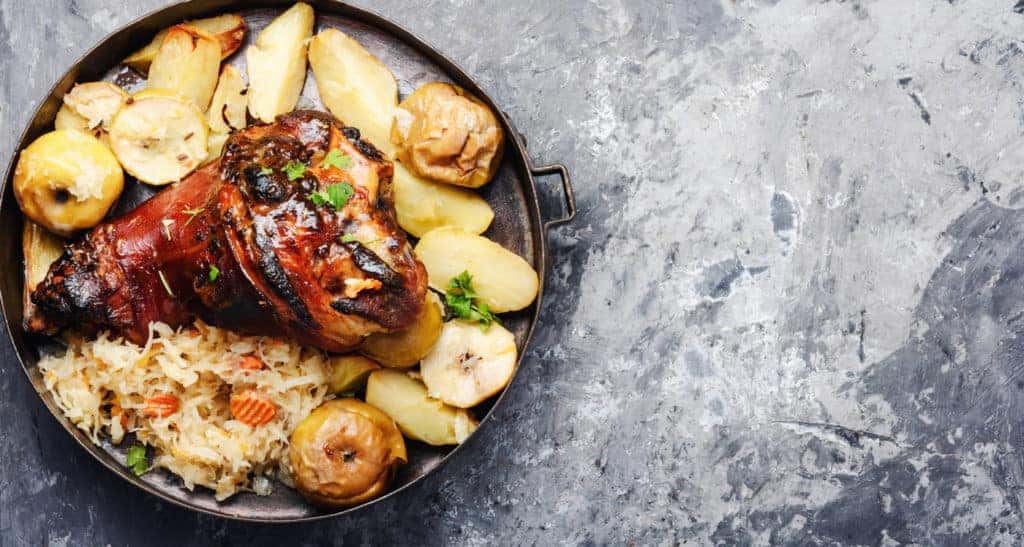 Genuine German food can be as close as your own kitchen, and you can enjoy the authentic flavors of Germany's diverse cuisine from the comfort of your own home!
Starters and Sides
You can start things off with something fresh and green to pique the appetite, and this gurkensalat, or cucumber salad, is refreshingly easy to prepare. It can be made in advance to serve chilled, and the thin slices of cucumber, dill, and sugar are the perfect complement to hearty schnitzel. There's more to German cabbage than sauerkraut, and rotkohl can add a splash of color to your plate with its braised red trimmings. Often served with roasted meat, rotkohl takes on a whole new dimension when you add apple slices and apple cider vinegar.
Pretzels are an Oktoberfest staple, and you might be surprised by how easy they are to bake at home! This recipe shows you how to fold the dough step by step, and once they're out of the oven, you can garnish the pretzels with butter and chives. They also go well with this German cheese dip.
The Main Event
Golden-fried schnitzel is a favorite in German restaurants and home kitchens, and you'll put your meat mallet to work to prepare this satisfying dish. Schnitzel is usually shallow fried in clarified butter, which you can make with this recipe. If you want to expand on the dish, this jagerschnitzel coats the meat in a savory mushroom gravy.
The schweinshaxe takes time to slow cook, but the result is well worth the wait. Simmering this roasted pork hock in water before roasting ensures that the meat will emerge with a crispy skin, and the slow roasting allows all the hock's tough connective tissues to meltdown and enhance the flavor.
Nothing warms the heart and soul like a homemade stew, and this Hungarian goulash is loaded with nutritious vegetables and hearty meat. The recipe starts with a mirepoix of onions, carrots, and celery sautéed in butter, while Hungarian sweet paprika lends a distinct flavor to the finished product. You can also add extra ingredients like red peppers to taste.
Dessert
End the meal on a high note with one of Germany's most beloved desserts, the Black Forest cake. This decadent chocolate sponge cake features a rich cherry filling as well as a homemade whipped cream. The Bavarian Covered Apple Cake is packed with autumn-evoking spices, and the cinnamon candied almonds can be prepared in a snap.
You might also like: Warm Up Your Oven For These Recipes
Another German Classic
Once you've enjoyed some tasty German cuisine, you can experience the power and precision of German engineering that only Volkswagen can offer. Check out our inventory online to find your next car or SUV!