Heart-Shaped Cookies To Make Year-Round!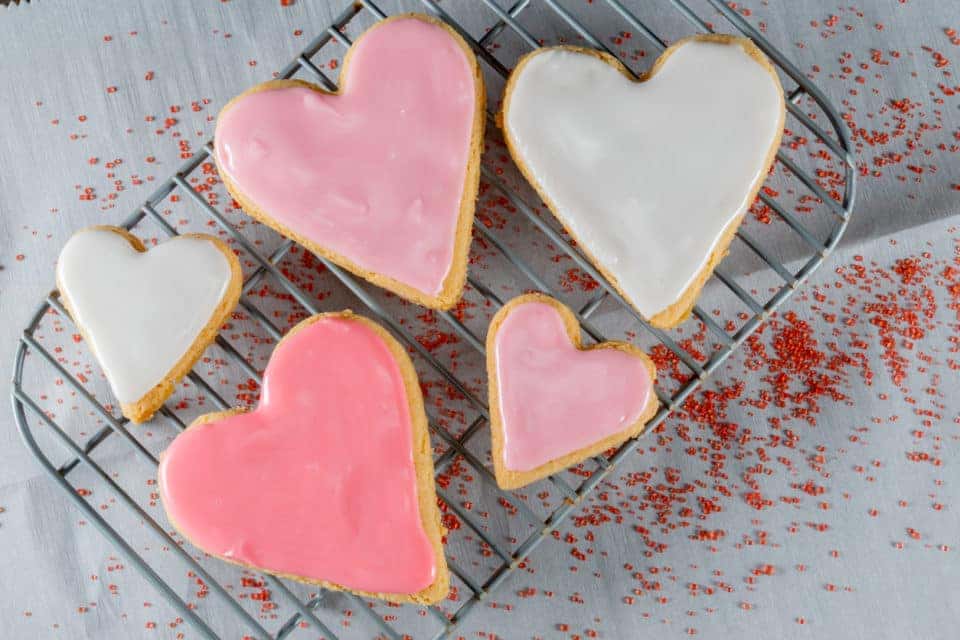 This sugar cookie recipe is definitely one to write home about! It offers the perfect blend of butter, sugar, and flour for a dough that's flexible enough to roll easily, but firm enough to hold its shape when you punch out your cookies with cookie cutters. Though hearts are traditionally thought of only around Valentine's Day, there's never a bad time to let a friend, family member, or colleague know that you care with these delicious heart-shaped confections!
Kitchen Equipment
For this sugar cookie recipe, you'll want to make sure you have the following tools on hand:
Hand or stand mixer
Large mixing bowl
Heart-shaped cookie cutter
Plastic wrap
Rolling pin
Parchment paper
Half-sized sheet trays (18″ x 13″)
Pro Kitchen Tip: using parchment paper on your sheet trays helps ensure a more even bake across your pan, significantly reduces stuck-on cookies, and makes clean up a breeze!
Ingredients
1 1/2 cups (3 sticks) unsalted butter, softened
2 cups white sugar
1 cup powdered sugar
4 eggs
2 tsp. vanilla extract
5 cups all-purpose flour
2 tsp. baking powder
1 tsp. salt
Optional: lemon zest
If you're looking for a way to make your sugar cookies even more special, try doubling the amount of vanilla extract you use. It'll enhance the flavor of your cookies and leave friends and family wondering what your secret is!
You might also like: Let Lee's Hill Cater Your Next Event
Method
In a large bowl or the bowl of a stand mixer, cream together butter and sugars until light, fluffy, and smooth.

Beat in eggs and vanilla, mixing until well incorporated.

Add in the flour, baking powder, salt, and lemon zest if using, mixing just until all ingredients are incorporated and the dough fully comes together.

Cover, and chill dough for at least one hour so the dough is firm enough to roll out.

Preheat oven to 400 degrees F (200 degrees C) for at least a half-hour before you plan to bake your cookies to ensure your oven is at the full, correct temperature.

Flour your work surface, and roll out dough to 1/4 to 1/2 inch in thickness. Cut into shapes with your heart-shaped cookie cutter.

Place cookies 1 inch apart on parchment paper-lined half-sheet trays.

Bake 6 to 8 minutes. Cool completely before serving or icing.
These sugar cookies are easy to whip up and sure to delight all who try them. Happy baking!